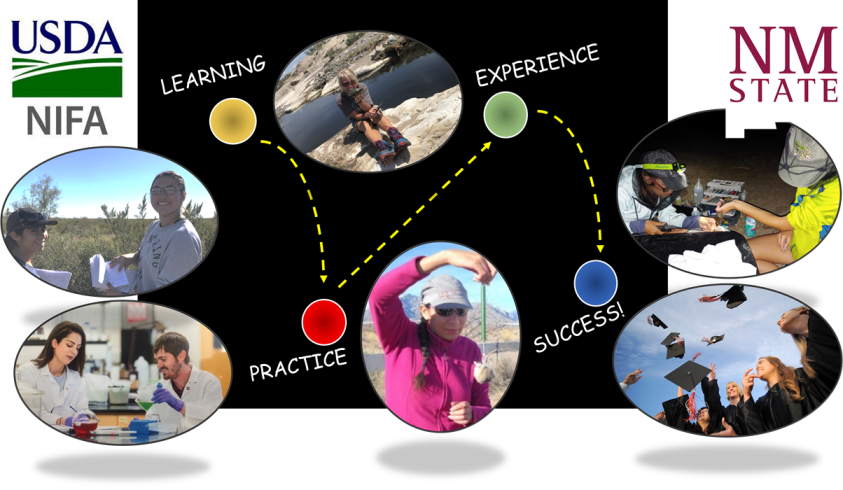 Research Opportunities For Graduate and Undergraduate Students
"Enhancing Hispanic Access to Natural Resource and Agricultural Careers through Education, Mentorship, and Training"
Funded by USDA-NIFA
Our Goals
Identify and mentor underrepresented students to prepare them for careers in natural resource and agricultural disciplines with the USDA and other agencies/NGOs and ultimately provide them a career path.

Provide experiential learning opportunities that engage students in their discipline of interest, broaden their perspectives of agriculture and natural resource management, and set them on a career path.

Immerse students in:

Mentorships with faculty to get hands-on experience for a research career
Mentorship experience with undergraduate students
Summer internships with federal agencies
Workshop and training on effective communication, effective professional presentations, critical thinking.
Workshops & trainings on federal USA Jobs Portal (resume preparation, mock interviews, etc)
Community outreach and citizen science programs
Networking with students from other NMSU campuses
Presentations in professional meetings
Annual retreats that will provide educational, informational and networking components.
---
Alvaro Romero, Project Director
945 College Avenue
Las Cruces, NM, 88003
Office: Skeen Hall 256
Phone: 575-646-5550
Cell: 575-740-9947
Fax: 575-740-8087
Email: aromero2@nmsu.edu